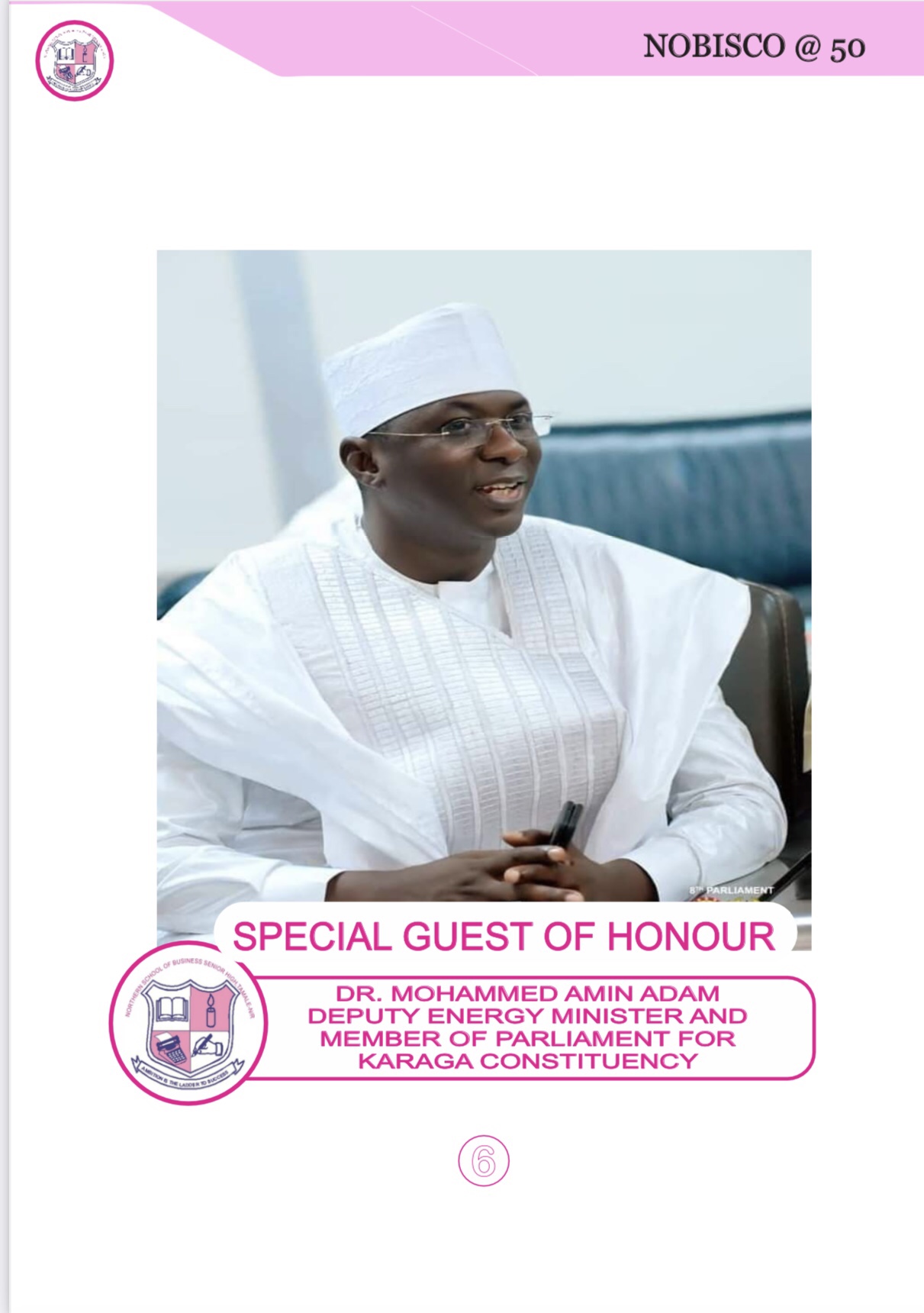 Naa chairman, Nyab Sagnari Naa,
Representative of the Hon. Regional Minister
Chairman of the Board of Governors, Nyab Kasullana
My former HeadMaster Mr. C.K. Nyabo
My former Senior House Master, Mr. Paul Kelly
Directors of Education
The Headmaster, who was my Senior in NOBISCO
Heads of Schools
Nanima
Teachers
NOSA Members
Fellow students
Ladies and gentlemen
It is my utmost pleasure to join you today for the launch of the 50th Anniversary of our great school, NOBISCO. As we already know, 50 years in the life of an institution is no mean achievement. We therefore deserve to congratulate the school for how far it has come.
The theme for the golden jubilee celebration "Celebrating 50 Years of holistic Education, the NOBISCO story" sets the stage for the evaluation of the performance of the school and her contribution to the development of our country.
Starting in 1972 as a private school in a make-shift structure, with about 20 students, the school has grown significantly over the last 50 years to a total enrolment of 3,547 students. On this occasion, we must pay tribute to the founder of the school, Mr. A. S. O. Arthur, and all successive management and teachers who have brought NOBISCO to the enviable status, it is today.
Many of us old students here already know that the school did not get here by chance. It has gone through extreme difficulties, exemplified by some of the things we still see today – the "boneshaker" and the "golingoling – the Tipper truck", and the photographer, Afa Fushein, that I understand are still here, remind us of the trying circumstances we went through together.
In spite of these difficulties, NOBISCO has weathered the storm, leaving no stone unturned, and has with determination and with great ambition competed well with the so-called big schools in the Northern Region. This is reflective of the motto of our school – "Ambition is the ladder to success".
Since our time in NOBISCO, our academic performance was very impressive. We made an average of 5 distinctions at O' levels, rubbing shoulders with the top schools in our Region. In athletics, Salam Gariba, Alidu Nuhu, and Mariama Sulemana dominated their disciplines for a long time. Our school football team defeated those of the big schools, and we were also very disciplined. The discipline in the school was so high that even when I delayed in ringing the bell for the last Assembly by a few minutes, I was diposed as the Bell boy by the then Arabic Master, Mallam Alhassan Adamu, who was the Master on duty. I was later that same day reinstated by then Senior House Master, Master Kelly who felt that on the whole I had taken my duty so serious.
It therefore came to me as a surprise when I read in March 2016 that NOBISCO was closed down because of student disturbances.
I must also mention that, recent events relating to the school have been very positive. Last year, the school became quater finalist in the National Science and Mathematics Quiz Competition. This became a rallying point for our school as old and current students all over the World were excited and felt proud to be associated with NOBISCO. Many people heard the name of NOBISCO for the first time. I must commend our quiz students and their masters who prepared them; but let me advise that quater finals are not the finals. We must move up in the competition in the years ahead. Above all, we must show our brightest side in academic performance.
I need not remind the current students that there is great responsibility on you. The past 50 years are gone. But the next 50 years will be defined by you and those after you. You must torch the flame of NOBISCO to illuminate the darkness in our World, and to sow the name of our school in the hearts of our people; and you can do this by hardwork and by the academic performance you show, when you leave the 4 walls of the school.
We on our part will continue to inspire you, give you the necessary support and provide you with the platform to project our school into a center of excellence.
Fellow students, there is so much of the World in front of you; and you are being prepared by your teachers to grab the best of it. It will not be for the fastest runner. It will not be for the physically strongest amongst you. It will indeed be conquered by the knowledge and the skills you acquire.
On this journey to a successful future, some of you will tumble. Some of you will lose your steps. Yet some of you will fail; but know that no matter how many times you fail, how many times you fall, the opportunity to succeed will not be closed, and you should therefore not condemn yourself to hopelessness. As Nelson Mandela said "Do not judge me by my successes, judge me by how many times I fell down and got back up again.". I have failed my exams before, I failed the Common Entrance Exams. I failed the late Entrance Exams. So I came to NOBISCO as a Sports boy, but I soon realised in my first year that I could a great intellectual. I lost parliamentary elections three consecutive times, I lost job opportunities many times. However, I can also say without any equivocation that I am a winner because I studied to the highest academic degree. I won parliamentary elections in my fourth attempt. I have not just gotten many jobs, I have created many. If I can do it with the kind of limited facilities I had in NOBISCO, you can do more.
Today, you no longer study with lanterns, you do not travel to the place we called "Chilvarious" or Jisonaayili to fetch water, and offcourse you do not lose your lunch if you don't fetch water to the school kitchen. You have no excuse to fail.
My friends, do not limit your scope to your immediate surrounding or what we call your comfort zone. Expand your horizon and explore uncharted areas. Read broadly in addition to your chosen area of specialisation, for the World outside school will offer you many choices to unearth your potential. Therefore, prepare for an opportunity you may not get, rather than get an opportunity you are not prepared for.
Particularly language studies has become so important in today's global business. You cannot participate in the global market place today if you cannot speak one of English, French, Chinese, Housa and Swahili. Therefore, irrespective of the course you are studying, do well to equip yourself with a relevant language. Same is with Mathematics, which derives the world of economics, finance, science and technology. Those who say they are Maths "phobias" risk reducing their carrier prospects.
Education is the most powerful weapon which you can use to change the world. NOBISCO is a relatively young school, but there are many products from our school who are changing the World, even in their small communities. I visited a village by name Sadugu in the Karaga Constituency whilst I was campaigning for votes. The community has no electricity, no good drinking water, no good school. And when I gathred the people to interact with them, I was shocked. The man who came out to speak on behalf of the community was my classmate from NOBISCO. He did not hail from there but he lived there as a Pastor, a teacher without salary and a mentor. This community will soon be connected to the national grid and be provided with a merchanized borehole. I was proud to be a NOBISCAN. I can assure you that such selfless contribution to society is how we can change the world for the better of our children; and these were the unpalatable circumstances our teachers endured when we were here in NOBISCO, and with dedication to their duty, they produced a whole lot of us sitting here and many others who are not here.
So yes, some schools here in Tamale can boast of producing former Presidents of Ghana, Vice-president and Speaker of Parliament; but we can also be proud of our gallant old students who are impacting lives in many aspects of our national development including professors, business people, farmers, teachers, tradition leaders, CEOs, lawyers, Medical Doctors, public servants, MPs and Ministers of State.
My dear students, the government has provided resources towards the provision of education in our country. The President, Nana Addo Dankwa Akufo-Addo even in the face of pessimism expressed by some Ghanaians, has been providing free Senior High School education to our young people. This by far is the most ambitious and most expensive social intervention in our country. The most important resource of our country is our people. Therefore investment in the education of our people is justified not only for its economic returns but also for its contribution towards social transformation such as forging harmony and common understanding amongst us and the integration of our society.
Government has also provided school infrastructure in many parts of our schools across the country, to facilitate teaching and learning. NOBISCO will continue to get its share of the infrastructure. I recall the infrastructure projects we initiated when I was Mayor here in Tamale – a girls dormitory and a toilet facility which were completed, a dinning hall complex which had commenced, and this very football park which was upgraded as part of our hosting of the African Cup of Nations. Subsequent governments did their part as well to bring the infrastructure portfolio to this level. I know that the challenges of infrusrtacture remain as I have just learnt that the old dinning hall has been converted to a boys dormitory.
It is for this reason I wish to commend the school management, parents and the old boys and girls of our great school for your contributions towards complementing the efforts at addressing the infrastructure problems. You have already contributed towards the construction of a Home Economics Block which has reached lintel level. I want to announce that five old students – Mr. Hamis Yussif, Mr. Tika Yidana, Mr. Mawiah Kadiri, Mr. Frank Mantey and myself, Dr. Mohammed Amin Adam, have agreed to put resources together to complete the block before the formal commemoration of the 50th Anniversary of our school. This does not mean old boys and girls should cease donations towards other projects.
I have also been asked by His Excellency, Alhaji Dr. Mahamudu Bawumia, Vice President of the Republic to inform you that he has been touched by the unfortunate conversion of a dinning hall to boys dormitory. He has asked me to assure you that, soon a new boys dormitory will be built here in NOBISCO to mark the celebration of the 50th Anniversary of our school, and this will form one of the key highlights of the school's golden Jubilee.
Late last year, the school cadet appealed to me to provide them with boots to enable them play its role in this historic celebration. I have here GHC10,000 to support the cadet corp to acquire boots to enable them give us the best military matching display. The smart turn out by the school's cadet this morning show that they deserve the support we are giving them.
I also have GHC10,000 to support the upgrading of the WC for the staff of the school.
Distinguished ladies and gentlemen, as we Launch the 50th Anniversary of our school, I wish to invite all and sundry to support the planning committee with cash and in-kind donations to ensure a befitting celebration of the 50th birthday of a school that has contributed so much to the development of our country. Let me specially thank our traditional leaders particularly His Majesty Nyab Sagnari Naa for prioritising education as the tool for accelerated development, and for the continuous support to our educational institutions.
Let me also thank the Ghana Education Service, the Board of Governors, management, teachers, and with great all the members of NOSA for our spirited support to our school so far. NOBISCO has given so much to us, and we must give even more back to the school. I believe that when we meet here again for the massive celebration in November this year, we will all share in the joy of our golden jubilee and look to the future with hope and aspirations of transforming NOBISCO into a center of excellence for academic pursuits.
May God bless NOBISCO
God bless Ghana
God bless all of us!